Last modified: Tue Jun 10 10:56:39 2003, see what's new.
Lum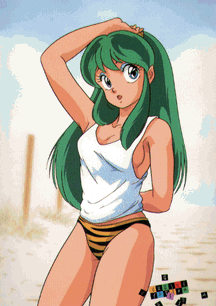 This is Lum.
Lum is the main character in the Japanese comic/anime series Urusei Yatsura, by Rimiko Takahashi. You will find a lot more about Lum on other Web sites (try the link above first). As of this time, I haven't had much time to write about her but I must admit that she's one of my favorite Japanese manga characters.
---
| | |
| --- | --- |
| Press the button on the right to be notified of changes to this page. | |
This notification is provided as a public service by the URL-minder.
---
Don't forget to visit my...

[ HOME PAGE | FAVORITE PLACES | PERSONAL RESUME | GUESTBOOK ]


This page is maintained as a public service by Joe Larabell.
Inquiries: http://larabell.org/MailTo.cgi/larabell/getForm